Your sleeping bag is one of the most essential pieces of kit that you will own as a camper.
Getting a good night's sleep is a significant factor in keeping you safe and happy when hiking or camping. So don't underestimate how significant it is to have the right sleeping bag!
A high-quality sleeping bag will keep you warm and comfortable, while a poor quality sleeping bag will leave you cold and tired.
We're here to make sure you choose wisely.
There are many different types of sleeping bags, and at first, the choice can seem a little daunting.
In this detailed guide, we are going to help you understand everything you need to know about sleeping bags so that you can invest in what suits you best.
What Are The Different Types of Sleeping Bag Shapes?
There are main shapes of sleeping bags that you need to know. They usually include rectangular sleeping bags, semirectangular sleeping bags, mummy sleeping bags and double sleeping bags. And sleeping bags design for kids and women.
Rectangular Sleeping Bag
A simple, traditional shape that gives you plenty of room to stretch out.
Pros – spacious and easy to move around in, so good for those who change position often at night. Some can be completely unzipped and used as a cover or blanket.
Cons – not as cosy and warm as a fitted shape like the mummy sleeping bag. Tends to be larger and heavier than a mummy bag.
Conditions to use in – whenever weight is not a concern. At a campsite, when car camping or indoors.
Semi-rectangular Sleeping Bag
This shape is a little more tapered than a pure rectangular bag, but not as fitted as a mummy sleeping bag. It is sometimes referred to as 'barrel shaped'.
Pros – offers a good balance between space and cosiness.
Cons – generally a little heavier than a mummy sleeping bag.
Conditions to use in – any.
Mummy Sleeping Bag
This bag shape has a tight fit with a very tapered leg area.
Pros – snug and fitted for increased warmth. Tends to be smaller and lighter weight than rectangular-shaped bags.
Cons – tight fitting, so not ideal if you prefer to be able to stretch out.
Conditions to use in – when backpacking or in cooler temperatures.
| | | | |
| --- | --- | --- | --- |
| | | | |
| | Lightweight, fitted and cosy. | No room for moving about inside the bag. | |
| | A good compromise between weight and space. A middle ground between the mummy and the rectangle. | Tends to be a little heavier than the mummy shape. | |
| | Spacious and with plenty of room for stretching out. | Large and heavy. Not as snug and warm as a mummy bag. | |
Additionally, you have these three specialized types of the sleeping bag.
Double Sleeping Bag
This is a large sleeping bag designed for two people who want to sleep together. Some single sleeping bags can be zipped together to provide a similar function.
Pros – increased body heat and warmth.
Cons – often heavy and bulky, so not ideal for backpacking.
Conditions to use in – at a campsite or indoors with your partner.
Children's Sleeping Bag
Children's sleeping bags are simply smaller versions of adult sleeping bags.
Pros – small and affordable.
Cons – can only be used by children or very small adults.
Conditions to use in – when camping anywhere with your children.
Women's Sleeping Bag
These are shaped to fit a typical female shape, often with additional space at the hips and less round the shoulder area.
Pros – increased comfort and fit for some women.
Cons – not suitable for most men to use.
Conditions to use in – in any condition.
>>MORE: 15 Best Large Family Camping Tents to Back You Up
Sleeping Bag Temperature Ratings & Seasonality
A sleeping bag's warmth is one of the most significant aspects that you need to know about before you buy. Sleeping bags are designed for three main seasons, and each of these is suitable for a certain temperature range.
A general guideline is as follows:
| | |
| --- | --- |
| | Bag Temperature Rating (°F) |
| | |
| | |
| | |
As well as these guidelines, most sleeping bags are rated by EN (European) or ISO (International) standards.
This means that the sleeping bag has been independently tested by the manufacturer to obtain an official temperature rating.
This rating gives you a much more accurate idea of the conditions a sleeping bag is suitable for and is more reliable than the seasonality of a sleeping bag.
Most bags will give you the following three ratings:
Comfort rating indicates the temperature at which a cold sleeper might feel comfortable.
Lower-limit rating states the lowest temperature that the average man will remain warm in the sleeping bag.
Extreme rating gives the extreme temperature at which the sleeping bag can be used in an emergency situation.
Ideally, you want to purchase a sleeping bag with an EN or ISO rating because you can be certain that this bag has been tested to a high standard.
A Special Note On Seasons & Temperature ratings
When you are selecting your sleeping bag, please remember that summer and winter temperatures are very different around the world.
Summer in a northern climate is often cold and wet, and nighttime temperatures can remain low even in August.
Above all, you must think about the temperatures in which you are going to be camping and choose a sleeping bag that suits these temperatures!
What Sleeping Bag Insulation Is The Best?
Before we talk about the types of fillings that make up sleeping bag insulation, let's make sure we understand the vocabulary that is used when talking about these fillings.
Fill power is the main specification you need to know about. This tells you about the quality of down loft being used. Fill power is a measurement of the amount that the down expands and traps air. A higher number indicates down that generates greater warmth for its weight.
The highest fill power ratings are those of around 800 or 900. The higher the rating, the better the thermal efficiency. This means that less down is required to create the same warmth, meaning that the sleeping bag will also be lighter.
The Main Types of Sleeping Bag Filling
There are three main types of sleeping bag filling.
#1 Down insulation
Down is a natural material that is ultra-lightweight and very soft and flexible to sleep in. It maintains its loft no matter how many times it is compressed into a stuff sack.
However, if down gets wet it can be permanently damaged and its insulating abilities will decrease.
If you choose a down-filled sleeping bag, be sure to buy a waterproof stuff sack to protect it from getting wet at all times!
Pros – Lightweight and warm. Compressible, long-lasting and durable.
Cons – Tends to be expensive. Dries slowly when wet.
Conditions to use in – Ideal for cold and dry weather. Great for backpacking.
#2 Synthetic insulation
Synthetic insulation is usually made from polyester. It is much cheaper than down insulation, and will insulate even if it gets wet. It may lose its loft and become lumpy after being compressed repeatedly, so it isn't as long-lasting as a well cared for the down product.
Pros – Affordable. Dries quickly when wet.
Cons – Offers less warmth for its weight. Insulating ability decreases each time it is compressed.
Conditions to use in – Ideal for wet conditions.
#3 Down & synthetic blend
A mix of the above two materials offers a mix of their strengths, as well as limiting some of their imperfections.
Pros – Lighter weight than synthetic alone. Less expensive than just down. More water-resistant than only down.
Cons – Bulkier and heavier than just down. Less water-resistant and more expensive than synthetic alone.
Conditions to use in – Campsite camping.
Note: We don't recommend using sleeping bags filled with wool or cotton. These fillings are not commonly used in good quality, contemporary sleeping bags. In any case, they are heavy, bulky and stay damp once wet, making them poor choices for camping.
How to Choose Sleeping Bag Fabrics?
Shell material: The outer fabric or shell of the sleeping bag is constructed from tough nylon or polyester.
Ripstop: Ripstop is nylon or polyester that has heavier threads woven into it for greater durability. The heavier threads reinforce the shell, making it more resistant to both tearings.
Water repellent finishes: most sleeping bags are treated with a durable water repellent (DWR) finish that protects the inner insulation from getting damp.
Inner fabric: some rectangular bags are unusual in traditional fabrics like cotton or flannel for the inner. These feel soft on the skin but are heavier and slower to dry. Most other sleeping bag types use synthetic materials for the inner that is quick to dry.
Which Sleeping Bag Size & Weight Is The Best?
If you are hiking or backpacking, the weight and bulk of your sleeping bag is a serious consideration.
Check the packed weight and measurements of your sleeping bag to be certain that it is right for your needs and that you will have room for it in your backpack.
Look for sleeping bags that come with a stuff sack or compression sack that packs the bag down to a very small size.
Some sleeping bags are available in various sizes to suit people of different heights.
These usually come in small, regular and long options. Be sure to check that you have chosen the right size for your stature.
If you are particularly tall, check that the sleeping bag is going to be long enough for you to fit into easily. If you are short, consider a small size.
Additional Sleeping Bag Features You Better Know
There are a number of additional features sleeping bag features that are worth knowing. These are the smaller details that can make the difference between a good sleeping bag and a great sleeping bag.
Sleeping bag hood
A closely fitting hood can make a big difference when it is cold. We lose the most warmth from our heads, so a hood can help to stop this happening and keep us toasty on cooler nights outdoors.
Sleeping bag zippers
Some sleeping bags come with more than one zipper, which gives you more possibility for ventilation. In some cases, you also have the option of completely opening out the bag – a great option for hot summer nights.
Additionally, some zips have been designed to prevent snagging. This means that they have a cover over the zipper itself or a guard along the length of the zipper.
Stash pockets
Some sleeping bags offer the added bonus of a zippered pocket for keeping small items close to hand. This is a great feature for storing essentials that you might want to find quickly at night, such as a flashlight or a headlamp.
Stuff sack or storage sack
Most contemporary sleeping bags come with a stuff sack or storage sack that protects the sleeping bag when it is not in use. If you are backpacking and have limited space, look for a stuff sack that compacts the sleeping bag down to the smallest possible size.
Tips For Choosing Your Own Sleeping Bag Like a Pro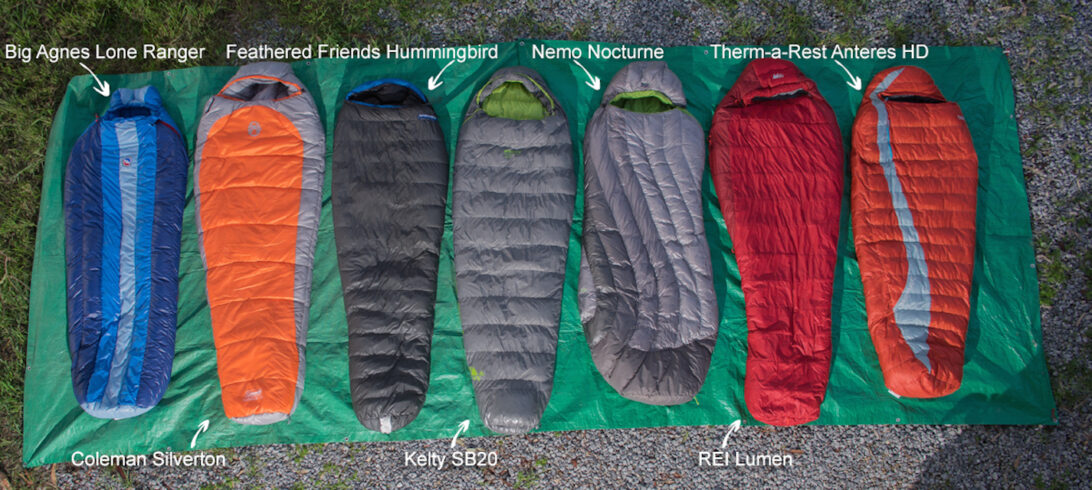 Now you know all about the different designs of sleeping bags and you understand their technical specifications. What next?
How do you decide which sleeping bag will suit you best? Here are the key questions that you need to ask yourself before choosing your sleeping bag.
What is your budget?
Always aim to buy the best you can afford. Remember that a high quality, well cared for the sleeping bag will last you many years.
Have you selected a high-quality brand?
As well as opting for the best you can afford, pick a quality brand that is highly rated and well-reviewed by its users.
In what climate will you be using your sleeping bag?
Are you a fair weather hiker who needs a sleeping bag just for the summer months? Are you going to be backpacking in an area where the nights are cool?
Consider carefully the climate and conditions in which you do most of you backpacking and choose a sleeping bag that fits with this.
Are you a cold sleeper or a warm sleeper?
Some people are naturally warmer at night and do not require as much insulation to stay cosy. Other individuals tend to get cold at night easily. Where are you on this spectrum? Be aware of this and choose accordingly.
What temperature rating do you need?
Be sure to select a sleeping bag with a temperature rating that is lower than the lowest temperature you expect to be sleeping in. It is always best not to run the risk of being too cold.
If you have a sleeping bag that turns out to be a little too warm, you can always open up a zipper to cool off, or sleep inside a sleeping bag liner.
Are you going to be carrying your sleeping gear in your backpack?
In this case, one of your main priorities will be weight and size. Look for ultra-lightweight sleeping bags with down filling. Make sure your sleeping bag comes with a stuff sack for compressing it into the smallest possible size.
Have you got the right size and shape for your physique?
Those who are taller will want a sleeping bag that comes in a longer length. Women may want to consider a gender specific sleeping bag.
Are you going to be camping with a partner?
If the answer is yes, consider either a double sleeping bag or two of the same individual sleeping bags that can zip together. You'll benefit from keeping each other warm and cosy.
Final Thoughts
Now you have known everything you need to choose the perfectly right types of the sleeping bag, you now can enjoy pleasant nights when camping.
Please comment below to let us know if this guide to sleeping bags has been helpful for you.